For wholesale
call 530 506 900
TESLA AirCook Q70 XXL - multifunctional digital hot air fryer
power 1,700 W, volume 8 liters, touch LCD display, 10 programs with Heat2Flow technology, 90-minute timer with automatic shut-off, preheating function, reminder to stir food, colorful printed cookbook in the package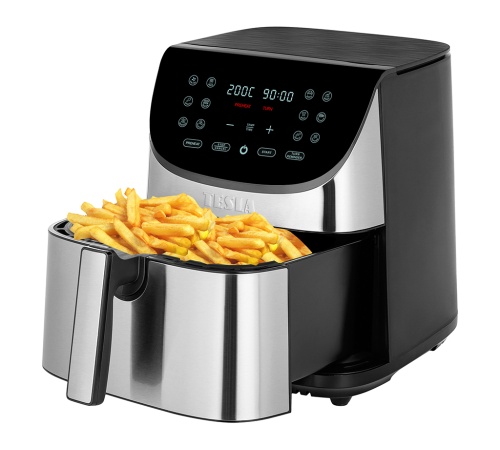 Prepare your favorite fried foods in a healthier way!
Do you like fried foods but are afraid that they are unhealthy? With the TESLA hot air fryer, you no longer have to deal with health-damaging burnt oils or fat-soaked food. The result is your French fries, chicken or steak prepared the way you like them - crispy on the outside and tender on the inside.
Up to 85% less fat - Heat2Flow technology
Your meals prepared with the innovative Heat2Flow dynamic hot air technology will contain up to 85% less fat than traditional fried meals.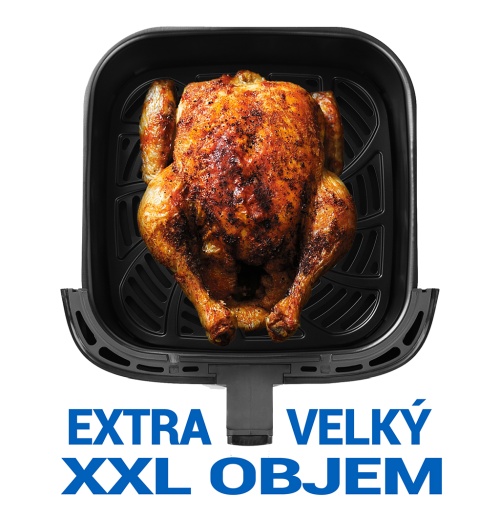 Lower energy consumption
The size of the hot air fryer, the extra large volume of the basket and the heating speed mean that you use significantly less energy and time than when cooking in a conventional oven.
Luxury design and extra large basket volume
A modern stainless steel construction and a large basket with a volume of eight liters provide enough space for preparing food for the whole family, when it is not a problem to prepare, for example, a whole chicken. The stainless steel surface is easy to clean and maintain.
Digital touch control panel
On the digital display, which is ergonomically turned towards you for easier reading, you can manually set the desired cooking time and temperature or choose from preset programs such as fries, meat, poultry or fish.
10 automatic programs
Quick program presets Hot Air, French Fries, Wings, Bacon, Seafood/Fish, Vegetables, Roasting, Roasting, Grilling and Drying enable easy heating. Comfort is complemented by the Reheat and Temperature maintenance functions.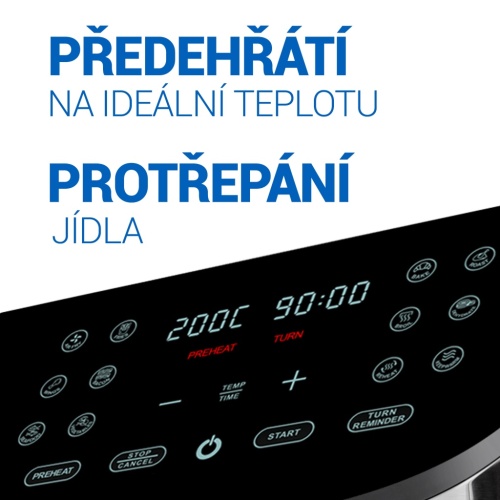 Advanced functions Preheating to ideal temperature and Food shaking
For the best heating result, use the Preheat function, the fryer will alert you when it reaches the ideal temperature for placing the food to be heated. Halfway through the cooking time, an audible signal will sound to alert you to the possibility of shaking (mixing) the food for the best possible cooking. Carefully shake or turn the food using tongs or a turner.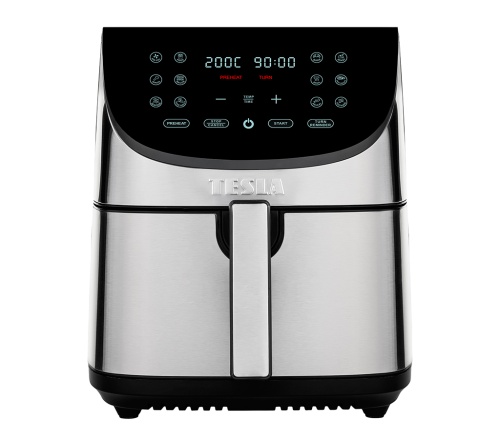 Large clear display with timer
You can monitor the remaining cooking time on the large LCD digital display. The timer allows setting up to 90 minutes for one heating cycle. After the cycle is completed, the hot air fryer switches off automatically.
Convenient maintenance
The inner basket and container are made of non-stick material, which is harmless to health and can be washed in the dishwasher.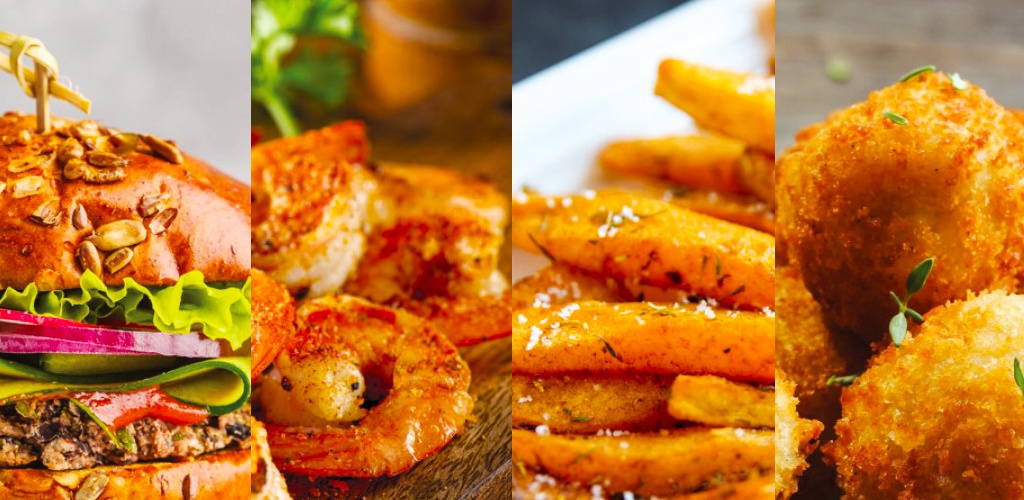 simple and convenient operation
10 automatic programs
modern ergonomically shaped touch control panel
up to 90 minute timer with automatic shutdown and sound signal
Preheating function and Reminder for shaking the food
less energy and time consumption compared to a classic oven
possibility of manually adjusting the temperature and duration of food heating
innovative technology of dynamic flow of warm air Heat2Flow
quick heating to the ideal temperature
ideal for quickly reheating food
possibility of turning off sound signaling
automatic heating recovery
heating pause
protection against overheating
automatic disconnection of the power supply if the basket is not fully inserted into the body of the appliance
non-slip rubber feet
non-stick surface guarantees easy cleaning
removable parts can be washed safely in the dishwasher
practical printed color cookbook with recipes in the package
TESLA professional warranty and post-warranty service
Specifications
volume 8 liters
power 1 700 W
heating temperature 76°C - 200°C
drying temperature 34°C - 76°C
10 automatic programs
90 minute heating timer
power supply 220 - 240 V ~ 50/60 Hz
dimensions 31 x 38 x 35 cm
weight 5.3 k


Příkon 1 800 W • volume 6 liters • touch LCD display • 8 programs with Heat2Flow technology • 60 minute timer with automatic shut-off • colorful kitchen cooker in package

Příkon 1 800 W • objem 6 litrů • dotykový LCD displej • 8 programů s technologií Heat2Flow • 60 minutový časovač s automatickým vypnutím • barevná tištěná kuchařka v balení