For wholesale
call 530 506 900
TESLA Deivce MP80 USB-C multiport 5in1
Wide range of applications • small and light • easy automatic installation • Gigabit LAN, 2x USB 3.0, HDMI 4K, USB-C PD • USB-C connection connector 
A multifunctional adapter with which you can easily expand the connectivity of your notebook, which due to its extra thin design no longer has some connectors in its equipment. You connect the TESLA Device MP80 multifunctional USB hub 5in1 via the USB-C connector and you immediately get all the necessary connectors.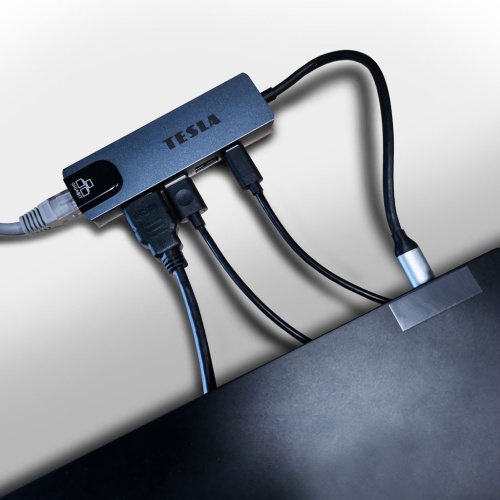 Wide range of uses
This multifunction adapter can be used for all devices that have at least one USB-C connector. And whether it's a laptop with Windows operating system, macOS (MacBook), or a classic desktop computer.
Automatic installation
No complicated installation or configuration. All you have to do is connect the TESLA Device MP80 to the USB-C connector and that's it. All necessary settings and driver installation are done automatically thanks to Plug & amp; Play.

Number of connectors
TESLA The MP80 makes it very easy for you to make 5 more USB-C connectors that can be used at the same time. Gigabit LAN for Internet connection, HDMI output with 4K resolution support for monitor or TV connection, a pair of USB 3.0 connectors for connecting USB devices such as a flash drive and one USB-C PD connector.
Charge your device from USB
Development is constantly moving forward, so the USB connector no longer has to be used only for data transfer. USB Power Delivery also allows you to charge your device via the USB-C connector, in this case up to 60 W.
Connect to a & nbsp; PC / laptop via USB-C connector
Allows you to connect multiple connectors at once
Compact dimensions
Long enough power cable for easier handling and trouble-free connection of all devices
Auto Install - Plug & amp; Play
Charge devices from the & nbsp; USB connector - USB Power Delivery
Elegant aluminum design and durability
Specifications
Cable length: 18 cm
Dimensions: 103x30x11mm
Material: aluminum alloy
Weight 49 g
1x Gigabit LAN for RJ45 cable connection
1x HDMI output with 4K resolution support
2x USB 3.0 1x USB-C PD
1x USB-C 3.1 GEN 2